This guide is sponsored by The Dance Academy.
The Dance Academy (TDA) offers training for students of dance with exceptional dance training in a professional and positive environment. They believe dance should be both an educational and an inspirational experience. Each dancer is unique, and TDA aims to ensure he or she reaches their maximum potential. They offer several dance classes and programs for students of all ages. TDA's dance classes are designed to help each child develop strong core techniques and artistic talent. They offer toddler dance, ballet, jazz, tap, hip hop, lyrical, creative dance, theater dance, and tumbling. The students at The Dance Academy range from 2 ½ to young adults. Their goal is for their dancers to have fun, develop their creative expression, and of course, get much-needed exercise. TDA's instructors teach age-appropriate dance skills for each age level.
TDA has been offering professional dance training with a personal touch for over 30 years, instilling the love of dance to students under the creative direction of Miss Donnajean Kline and staffed by a group of highly-trained instructors. Their dance season starts in September. Please visit our website at www.thedanceacademybuckscounty.com for more information about programs and classes offered throughout this fall. 
The autumn season has arrived in Montgomery County. It's time for cozy sweaters, fuzzy socks, crisp air, hot apple cider and beautifully colored leaves. The scenic roads of Montgomery County are even more enchanting this time of year. Our 2021 Fall Guide details everything you need to know about what's happening this season. Find fall festivals, apple orchards, halloween events, retail specials and more.
---
Click the buttons below to find fall events near you.
---
Fall Harvest Days at Merrymead Farm
When: Every Saturday and Sunday in October
Where: Merrymead Farm, 2222 S. Valley Forge Road, Landsdale, PA
Starting on October 2nd, Fall Harvest Days are back at Merrymead Farm. Saturday activities are from 11 am – 5 pm and Sunday activities are from noon – 5 pm. Harvest Days include a variety of pumpkins, fall decor, local apples and Apple Cider donuts. The Lighting of the Great Pumpkin takes place on September 24th and 25th. There will be hayrides and a venture through the cornstalk tunnel. Tickets need to be purchased for admission and activities.
All Hallow's Eve Fall Festival
When: Saturday, October 16th, 1:00 pm – 4:00 pm
Where: Pennypacker Mills, 5 Haldeman Road, Schwenksville, PA
Enjoy Fall Festival at Pennypacker Mills, including hayrides, cider pressing, pumpkin painting, crafts to make and take home, bean bag toss and a hay pile to jump in. Fun and free for all ages.
Autumn's Colors at Longwood Gardens
When: October 2 – November 14
Where: Longwood Gardens, 1001 Longwood Road, Kennett Square, PA
Visit the spectacularly painted vistas, stroll through our picturesque Meadow Garden rippling with life, and find family fun in the whimsical Garden Railway (opening October 2) and Pumpkin Playground (opening October 9). Inside, celebrate fall's quintessential flower with the  Chrysanthemum Festival. Beginning October 16, innovative plant-growing techniques and displays take center stage by way of thousands of carefully nurtured and trained chrysanthemums throughout the Conservatory.
Montgomery Township Day
When: Saturday, October 9th, 1:00 pm – 6:00 pm
Where: William F. Maule Park @ Windlestrae, 1147 Kenas Road, North Wales, PA
Celebrate community at the Montgomery Township Day on October 9th. There will be amusements, live music, entertainment, food vendors, and various fall activities and crafts. A few of the food vendors include Chick-Fil-A, Dog Bites Hot Dogs, Funellas Funnel Cakes, Gigunito's, Humpty's Dumplings, Kona Ice, Mystic Pizza and Roll 'M Up.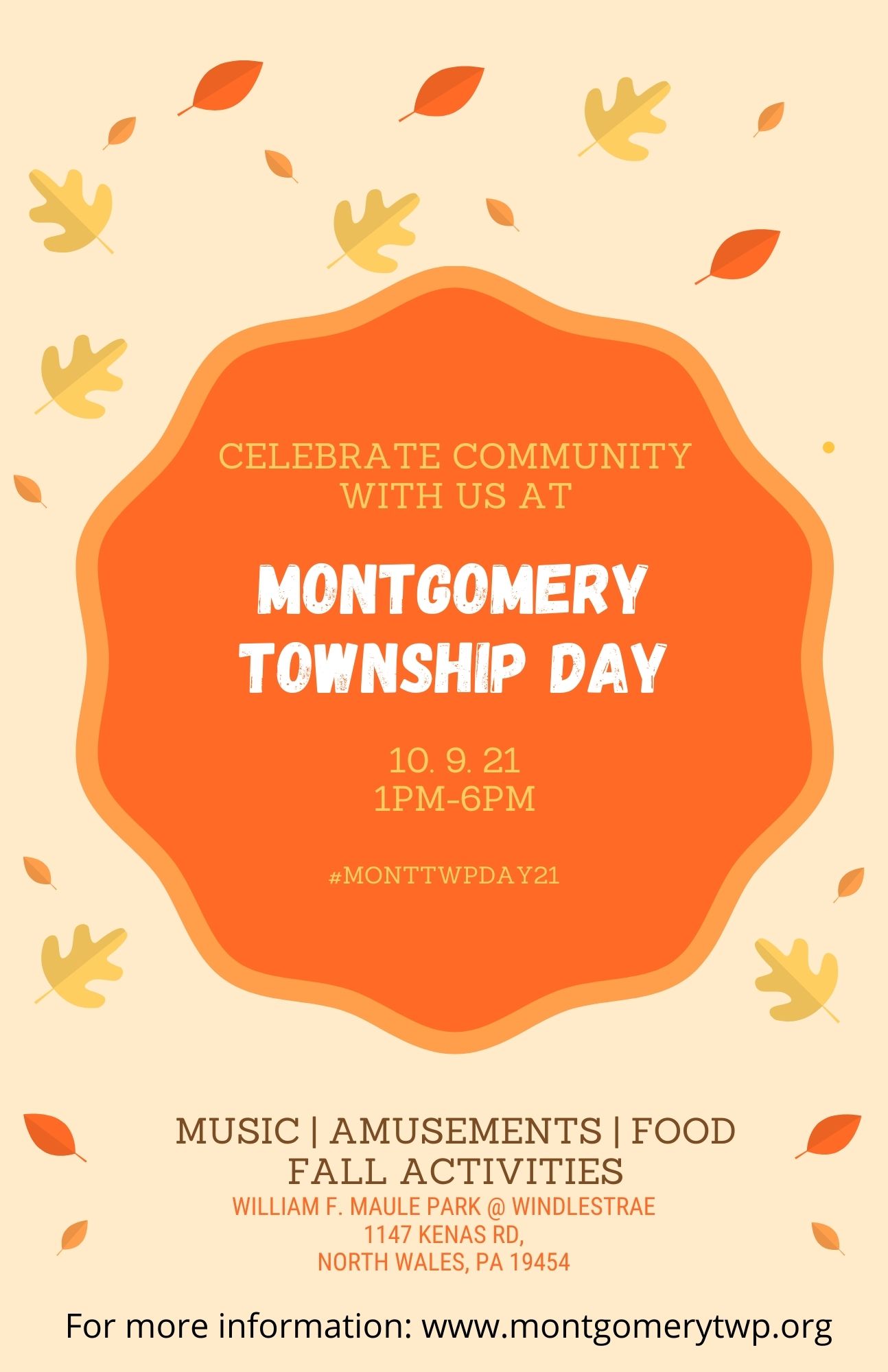 Skippack Scarecrow Festival at Floral & Hardy
When: September 18 & September 19, 9 am-3 pm
Where: Floral & Hardy, 4007 Skippack Pike, Skippack, PA 19474
Build your own life-size straw friend at the 11th Annual Scarecrow Festival. Participate with your family and friends. Each party will be stationed in their own pod where they will build their own scarecrow with the help of an instructor. Complete your scarecrow at one of the painting stations. Register here, as spots are limited.
---
Linvilla Orchards Apple Festival
When: September 25, 8 am – 7 pm
Where: 137 W Knowlton Road, Media, PA
Linvilla Orchards' Apple Festival is scheduled when Pick Your Own apples are most commonly at the height of their season and you can choose from the many varieties grown right at the orchard. You won't want to miss the apple pie eating contest either. Pumpkinland also takes place at Linvilla Orchards. There will be costumed characters, games, contests and live music. Pick Your Own apples and other fresh fruits and vegetables beings at 8:00 am.
Weaver's Orchard
When: Now & Ongoing; Mon-Thurs 8am-3:30pm; Friday 8am-5:30pm, Saturday 8am-3:30pm; Closed Sundays.
Where: 40 Fruit Lane, Morgantown, PA 19543
The orchard grows about 18,000 apple trees on about 35 acres of land. You are invited to pick many varieties, including the Star Gala that was discovered right on Weaver's Orchard. The apple cider-pressing season lasts from September to May and you can pick up a jug in the farm market.
Frecon Farms
When: Fall U-Pick Apples – through mid-November
Where: 501 S. Reading Ave, Boyertown, PA 19512
Frecon Farms has an array or apples and other fruits to pick from the orchards. You can visit the traveling farm market staff at the Ambler Farmer's Market, Bryn Mawr Farmer's Market and the Rittenhouse Farmer's Market to shop fresh-picked fruit, delicious baked goods and craft hard cider.
---
Ghost Stories
When: Saturday, October 2nd, 3:13 pm
Where: Pennypacker Mills, 5 Haldeman Road, Schwenksville, PA
Come out and listen to ghostly tales, legends and spooky stories by Charles Adams III. Free for all ages.
Terror Labs
When: Select dates in October, 6 – 10 pm
Where: 351 W. Schuylkill Road, Pottstown, PA
If you're looking for fun, excitement, and heart-pounding fear, Terror Labs will do the trick. Located in Pottstown, PA, Terror Labs is celebrating our 6th blood-curdling season. The mad doctors, former patients, and formerly living experiments are eager to greet you. No appointment necessary. Click the website to see available dates.
Haunted Halloween Tours
When: October 22 & 29, 7:00 pm – 10:00 pm
Where: Graeme Park, 859 County Line Road, Horsham, PA
Take a haunted Halloween tour at the 42-acre historic park and the only surviving residence of a Colonial Pennsylvania Governor at Graeme Park.
Halloween Parade & Extravaganza
When: October 30th, 11:00 am – 2:00 pm
Where: Ambler Theater, 108 East Butler Avenue, Ambler, PA
Bring your ghost and goblins out for trick or treating, pumpkin decorating, entertainment, kid friendly activities and delicious treats provided by local Ambler businesses. The theater lobby is the hub of activity – when you check in there you can partake in the activities or choose to go on the Halloween walk to participating businesses. Prizes for best costumes in various categories will be awarded throughout the event.
Hocus Pocus Movie Night
When: October 1st, 6 pm – 9 pm
Where: Fischer's Park, 2225 Bustard Road, Harleysville, PA
Bring your blankets and lawn chairs for a fall movie night under the stars. The movie playing will be Hocus Pocus. There will be free pumpkin painting, along with a dog pet costume parade with prizes. Concessions will be open with Grilly Cheese Food Truck and Kona Ice. The night starts at 6 pm with a Lolly and Yoyo concert, followed by the movie, Hocus Pocus, starting at 7:00 pm.
---
Sponsored by Witt Pilates.
Witt Pilates offers a diverse line-up of fitness and cardio classes including Reformer, Tower, Barre, Circuit, Spin, Chair and traditional Mat classes. They offer over 100 classes per week to meet your fitness needs and will continue to expand. Patty Witt has taken her studies and incorporated her own understanding of the Pilates discipline and made a name for herself in the fitness world.  A talented and highly educated professional, Patty will challenge you to reach your potential. Come experience her classes that have a classical tone and will teach you body awareness, build your strength and your confidence.
Classes are led with your physical ability in mind."My goal is to provide a fun, high energy atmosphere for working out – whether newbie or seasoned pro, whether in Pilates or spin cycling, … have fun, be comfortable, work to your own level of physical ability. If you're having fun, you are more likely to keep it up… and being in good shape is so important for good physical and mental health."   https://wittpilates.com/
Radiance Spa
Radiance Spa at the Bucks Club, 2600 York Road, Jamison, PA
(215) 343-0350, Ext. 6
www.radiance-spa.com
Radiance Spa is a hidden gem located at the beautiful Bucks Club.  Treat yourself to one of their restorative treatments in a relaxing atmosphere.  Select from their full menus of therapeutic massages, award-winning facials, hydrating body treatments or beauty enhancements.   Bring your significant other and enjoy a couples massage in the romantic suite with complimentary champagne.  Professional therapists and estheticians will customize your treatments to provide you with the best experience.
Fall is a great time to rejuvenate your skin after the summer heat and sun.  Radiance Spa is one of the exclusive spas to offer treatments and skin care from world-renowned Biologique Recherche.  You can have your skin diagnosed with the Skin Instant Lab consisting of 5 scientific measurement probes (hydration, insensible water loss, elasticity, pigmentation, sebumetry) connected to a computer running Biologique Recherche's diagnostic and analysis software.
Spa parties with complimentary wine and refreshments are fun for girlfriend get-togethers, birthdays, bachelorette parties.  Enjoy discounted monthly treatments with spa membership.  Visit the website for spa specials.  You can purchase gift cards or book appointments online.
Shop DaivasShop.com for skincare products for your at-home treatments.
Pennsylvania Pain & Spine Institute
When: Saturday, October 16, 2021, 10:00 am – 4:00 pm
Where: Downtown Quakertown, 314 W Broad Street, Quakertown, PA
Stay Active with PA Pain & Spine at the Autumn Alive! Fall Festival
Mark your calendars for this local fall festival! In addition to fun fall activities and many local vendors, the Pennsylvania Pain and Spine Institute team will be attending the Quakertown Autumn Alive Fall Festival to answer your questions about staying active, injuries, chronic pain, medical marijuana, acupuncture and more!
Get excited for activities, information, giveaways and the ability to purchase hemp-derived CBD on site to aid in your daily discomforts and overall health! Visit www.pennpain.com for more information!
Gannon Insurance Agency
Gannon Insurance Agency- where customer needs come first! Gannon Insurance Agency is your Independent, one-stop insurance center for Auto, Home, Business & Life Insurance. Insurance doesn't have to be complicated, but it is not do-it-yourself either. The team of Protection Advisors at the Gannon Agency will take the time to help determine what coverage(s) you need, and what you do not and they'll do the work to find you the right policies and make sure that there are no Gaps in your coverage and do so at the most competitive price. The Gannon Insurance Agency is an award-winning, local insurance Agency serving Bucks County, Philadelphia and Montgomery County. Call 215-891-9990 or go online to www.gannonagency.com, to Compare and $AVE!!!
Plumsteadville Inn
5902 Easton Road, Pipersville, PA
Website
The Plumsteadville Inn or "The Plum" as it has been known by, has been a Bucks County Landmark since 1751.  Fully renovated in 2012, the Plum has been thriving since.  Offering a variety of dining options and private party facilities we have the luxury of being able to handle parties of all sizes.  Happy hour is offered Mon-Fri with $1 off drinks and 1/2 priced appetizers.  Don't forget Best of Bucks Sunday Brunch, & even overnight Lodging.  Follow us on Facebook and Instagram, book your reservation on Open Table (highly recommended), or check us out on the The knot or Airbnb. The Plum has it all and is the place for any occasion.
"Burgers & Beer, Lobster & Cheer!"
Oktoberfest & Amblerfest
When: October 1st, 5 – 10 pm, October 2nd, 11 am – 6 pm
Where: 98 E. Butler Ave., Ambler, PA
Don't miss the 29th annual Oktoberfest in Ambler. Local restaurants and businesses will have special offerings all day. With over 90 vendors and 10 food trucks lining Butler Avenue and side streets, kids rides, a beer garden, musical performances and more, there will be something for everyone.
Steam Pub
606 2nd Street Pike, Southampton, PA
(215) 942-6468
Steam Pub in Southampton is a pub-style restaurant that was a former train station connecting the Bucks County suburb to the rest of the country and allowing Southampton to thrive economically. Steam Pub just released their fall drink menu. A few of the drinks include the Pumpkin Pie Martini, Apple Pie Martini, Spiced Cranberry Mule, Spiked Apple Cider, Maple Cinnamon Latte and more. Steam Pub's Halloween Party is Saturday, October 30th from 10 pm – 2 am. There will be a costume contest, drink specials and no cover.
For more great local resources this fall, visit our #LoveLocal Guide here.
We Are Supported By: